Road Tank Vehicle Inspections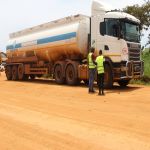 These inspections are conducted to ensure that road tank vehicles that are used predominantly for the transportation of petroleum-based flammable liquids conform to the required compulsory standard. Inspections are carried out for local tankers.
The inspections are based on the following compulsory standards;
ZS 371:

 

Road Tank Vehicles for Petroleum-Based Flammable Liquids – Specification
ZS 429-4:

 

The Handling, Storage, and Distribution of Liquefied Petroleum Gas (LPG) In Domestic, Commercial, and Industrial Installations.
This is aimed at promoting public safety and reducing the risks of incidents likely to be caused by uncertified vehicles. Road tank vehicles that do not comply with the relevant compulsory standards are not allowed to transport petroleum products in the country until the defects have been attended to.
Compliance with the above standards ensures that there is reduced fuel spillage and any other incidents which may hinder the safe transfer and transport of fuel in the country.